Artist brings family's abstract legacy, his own touch to UNLV's Art Department
By Al Mancini
Walking into Frederic Bonin-Pissarro's Southern Highlands home doesn't feel like you're visiting fine art royalty. On this mid-August afternoon, after the professor has delivered his children to their first day of school, the house is nearly devoid of both people and furnishings. The Pissarro family has just moved in. But the spare surroundings are a stark contrast to Frederic's artwork — modern abstract paintings with riots of color and bold strokes.
The great-grandson of Camille Pissarro — widely considered one of the fathers of Impressionism — has moved to Las Vegas with his wife, Marietta, and their two children to work at the University of Nevada, Las Vegas where he will teach drawing and art appreciation and she will serve as director of the language center. It's quite a coup for the school, in the midst of a major expansion of its art faculty.
"How many art departments have someone whose (great-)grandfather is being taught in the textbooks?" says Sean Clark, associate dean of the college of fine arts.
Royalty in exile His original paintings already sell for four to five figures and have been exhibited around the world. Yet Pissarro believes Las Vegas will offer him new opportunities.
"We've (only) been here a few weeks," the artist says of his new employer and, perhaps by extension, his new hometown. "I can tell it's in transition. It's a really good time. They just want to grow. They want to get things done. They want to move. They want to stretch. They want to try new things. And we're coming from a place where it was not that way."
Pissarro came to Las Vegas by way of Kentucky, which he describes as "very conservative." Before that he and his family lived in Cincinnati, the first American city to embrace his art, and the place he found shelter after an earlier marriage ended. His first exhibition there caught the eye of Cincinnati Enquirer art critic Owen Findsen, who featured his work on the front page of the arts section.
"From there," the painter recalls, "things kind of snowballed, exploded." In the time since, he has taught, designed posters, illustrated children's books and, of course, painted. The late billionaire Carl Lindner commissioned him to create about 20 pieces, four of which still hang in the Palace restaurant in the landmark Cincinnatian Hotel, which Lindner once owned.
A humanist Pissarro's brightly colored works tend to focus on subjects such as friendship, beauty, nature and relationships — particularly family.
"I think we all want the same things to a certain extent," he says of his inspiration. "We all want to be calm. We all want to be safe, put food on our table. We all want good things for our kids, if we have kids, or for our friends and family. As an artist, that's what I want to talk about," he says. "And it's not talked about enough because it's not sexy."
It's this sensibility that he believes he inherited from his great-grandfather. "Above everything else, he was a humanist," he says of the man that he refers to simply as Pissarro. "That's why he painted what he painted. He painted the poor guy in the field trying to get his potatoes because his kids are hungry. He didn't paint princesses from Egypt. He wasn't interested in that."
Bridging disciplines Camille also was known as a teacher, credited as a mentor among the Impressionists and post-Impressionists. And while his great-grandson admits he's not trained in that discipline, he says, "a good teacher is a coach," and trusts he can use his life experience to guide his students through their artistic development.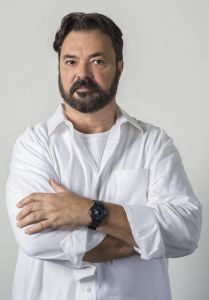 At the same time, the painter-turned-teacher is looking to the school for chances to expand his work into new fields.
"The art department is going through a major change, like the whole university. So a lot of things are being moved around. My goal right now is to help with whatever needs to be done, but also to build bridges and grow the school of art."
"Because UNLV is going to become a top-tier university," he continues. "I want to create bridges with the science and health departments, engineering." He sees opportunities to use art to make solar energy more appealing or to brighten hospitals to aid in the healing process.
Before Pissarro taught his first class, he began writing proposals for collaborations.
"He's extremely industrious," Clark says, when asked for his early impression of the new faculty member. "He has a great energy and obvious passion." So while Pissarro's studios haven't seen much use since his move to Las Vegas, expect to see new material very soon that he hopes will help him relate to his new neighbors.
Because, as he says simply, "I'm trying to illustrate things that you have in your heart and I have in my heart, even though we don't know each other and we are different."