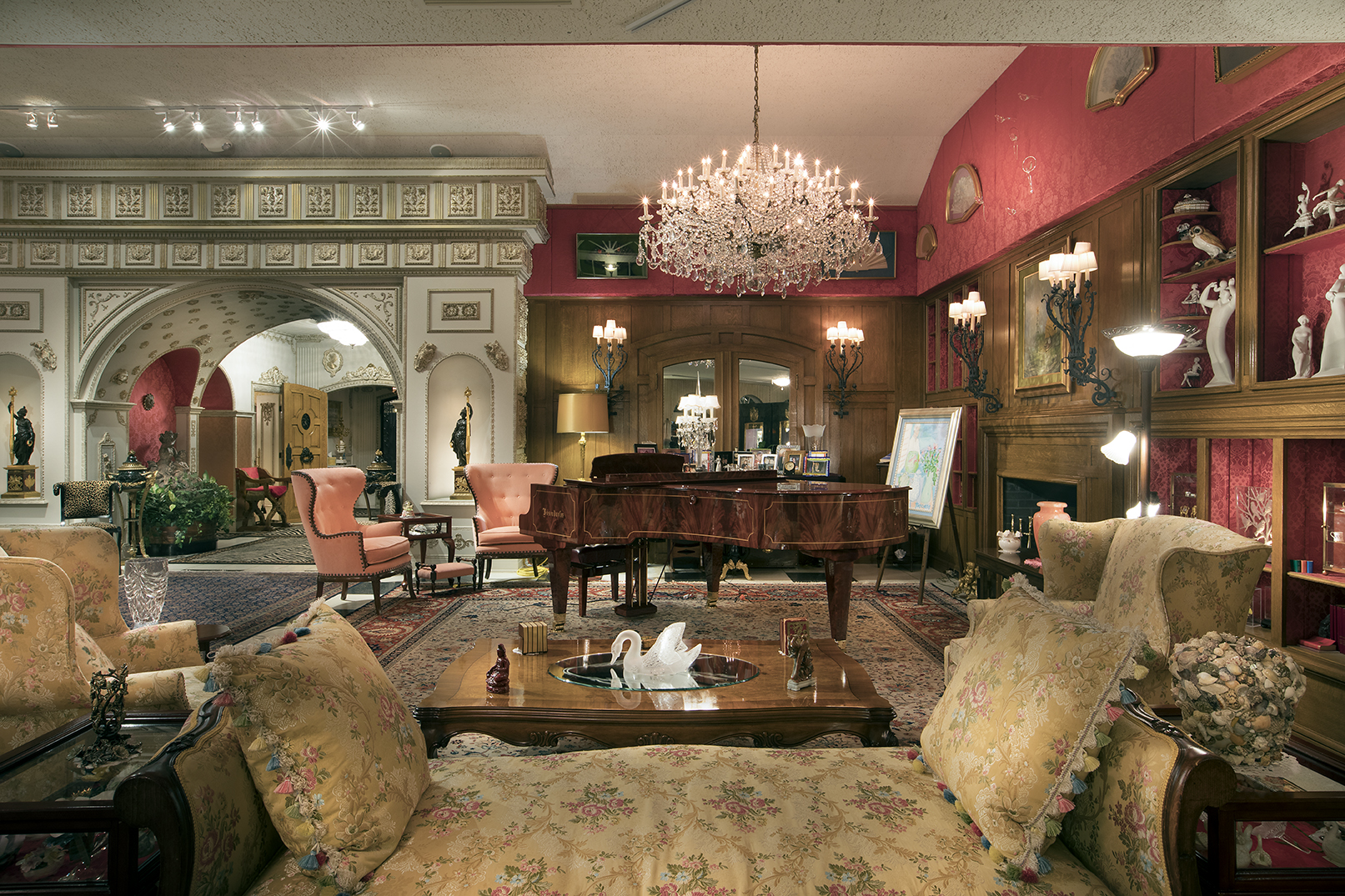 Singer's Las Vegas home is a mansion full of memories  
The original Las Vegas Strip, as seen in the 1960 film Ocean's 11, was made famous by the Rat Pack and other legendary entertainers. It disappeared when the historic Desert Inn, Dunes, Frontier, Riviera, Sands and Stardust hotels were demolished to make way for more modern landmarks. But nostalgic memories of that bygone era still live large within the walls of a piece of Vegas real estate that is now for sale.
It is the home of Phyllis McGuire, the youngest of the three McGuire Sisters, who achieved instant fame when they harmonized their way into America's heart in 1952 and sent the applause meter off the charts on "Arthur Godfrey's Talent Scouts."
Phyllis, Christine and Dorothy McGuire often were thought of as triplets because of their identical hairdos and outfits both on and off the stage. They had a string of gold records and hit songs, including "Sincerely" that went to No. 1 in 1955.
The small-town Ohio girls with an apple pie image quickly evolved, becoming glamorous women who earned millions of dollars. At the top of the music scene for two decades, they performed for five presidents and world leaders, including the Queen Mother of England.
When The McGuire Sisters appeared at the Desert Inn in 1960, Phyllis, who was not quite 30, met 52-year-old Sam Giancana. The inexplicable romance between the beautiful, elegant singer — whose mother was a minister — and the short, unattractive Sicilian boss of the Chicago mob lasted many years, despite hurting The McGuire Sisters' career.
In 1967, she bought a 3,800-square-foot ranch-style house in the exclusive enclave Rancho Circle, which was considered the Beverly Hills of Las Vegas.
Frank Sinatra, Dean Martin, Sammy Davis Jr., Liberace, Tony Bennett, Shirley MacLaine, Liza Minnelli, Debbie Reynolds and many other celebrities went there to unwind after their Strip performances.
But, as word got out about the fabulous late-night, sometimes all-night get-togethers, the house became too small to accommodate all the guests. So McGuire embarked on a five-year, $5 million renovation that included raising the roof, building a basement, increasing the size to 25,000 square feet, and installing bulletproof windows and rolling steel doors that covered the windows with the push of a button.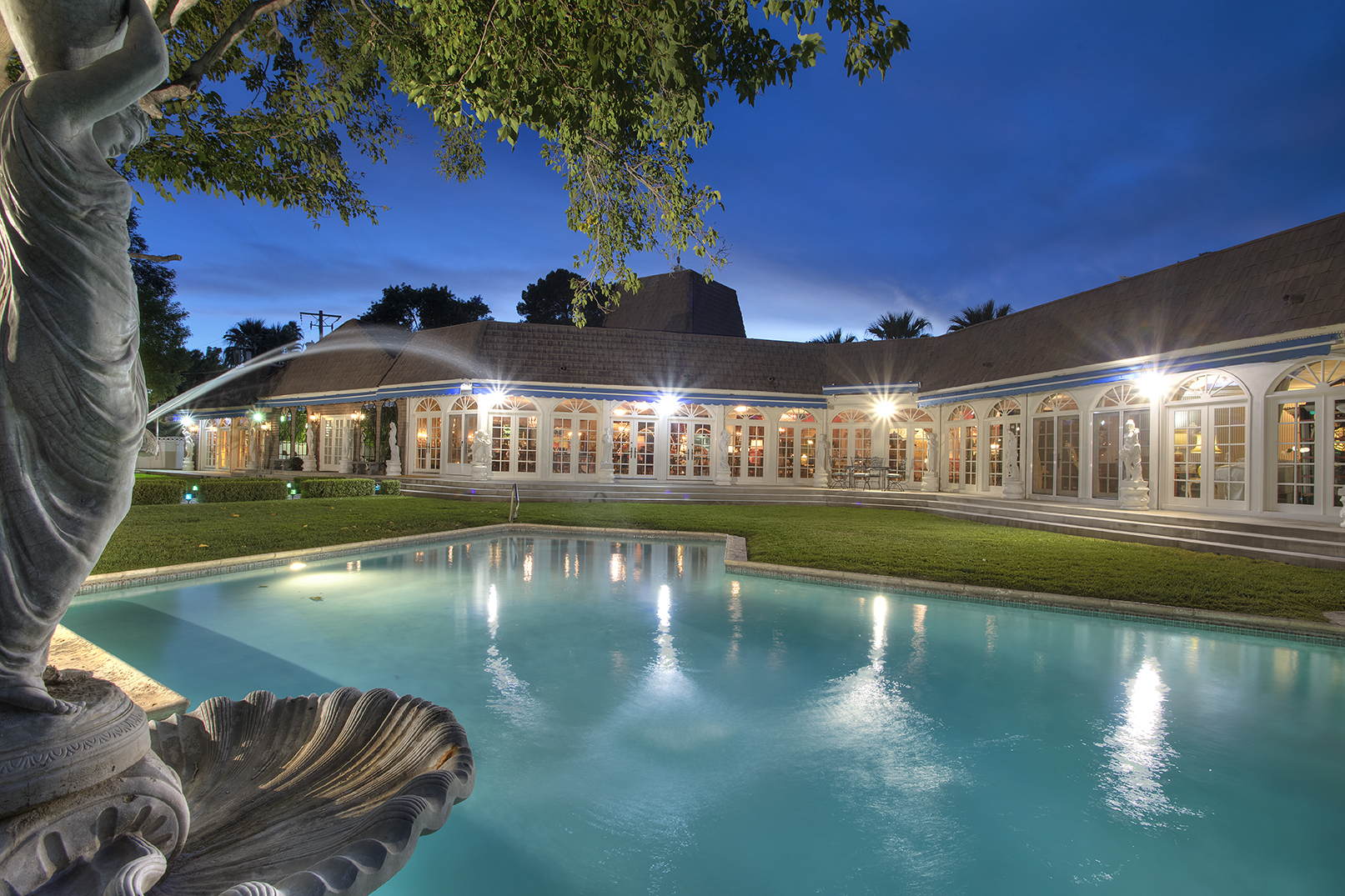 The 2.25-acre property has two swimming pools and a lagoon, where McGuire once kept 23 Australian black swans; a 3,000-square-foot guesthouse, where Lucille Ball, Lee Iacocca, Cary Grant, Kirk Kerkorian, Don Rickles and others stayed; a tennis court on which Johnny Carson first learned to play the game; and a small building called "Phyllis' Place" that has a grill, an ice cream bar and a 1950's soda fountain.
"There's no other place in Las Vegas like this with the acreage, the square footage and the history," said Gene Northup, owner of Synergy Sotheby's International Realty. It's obvious when you step into the entryway and walk under a replica of the Arc de Triomphe into the enormous "French Room," that McGuire loves Paris. Here, a 36-foot-tall Eiffel Tower made of wrought iron and steel serves as a structural support for part of the house.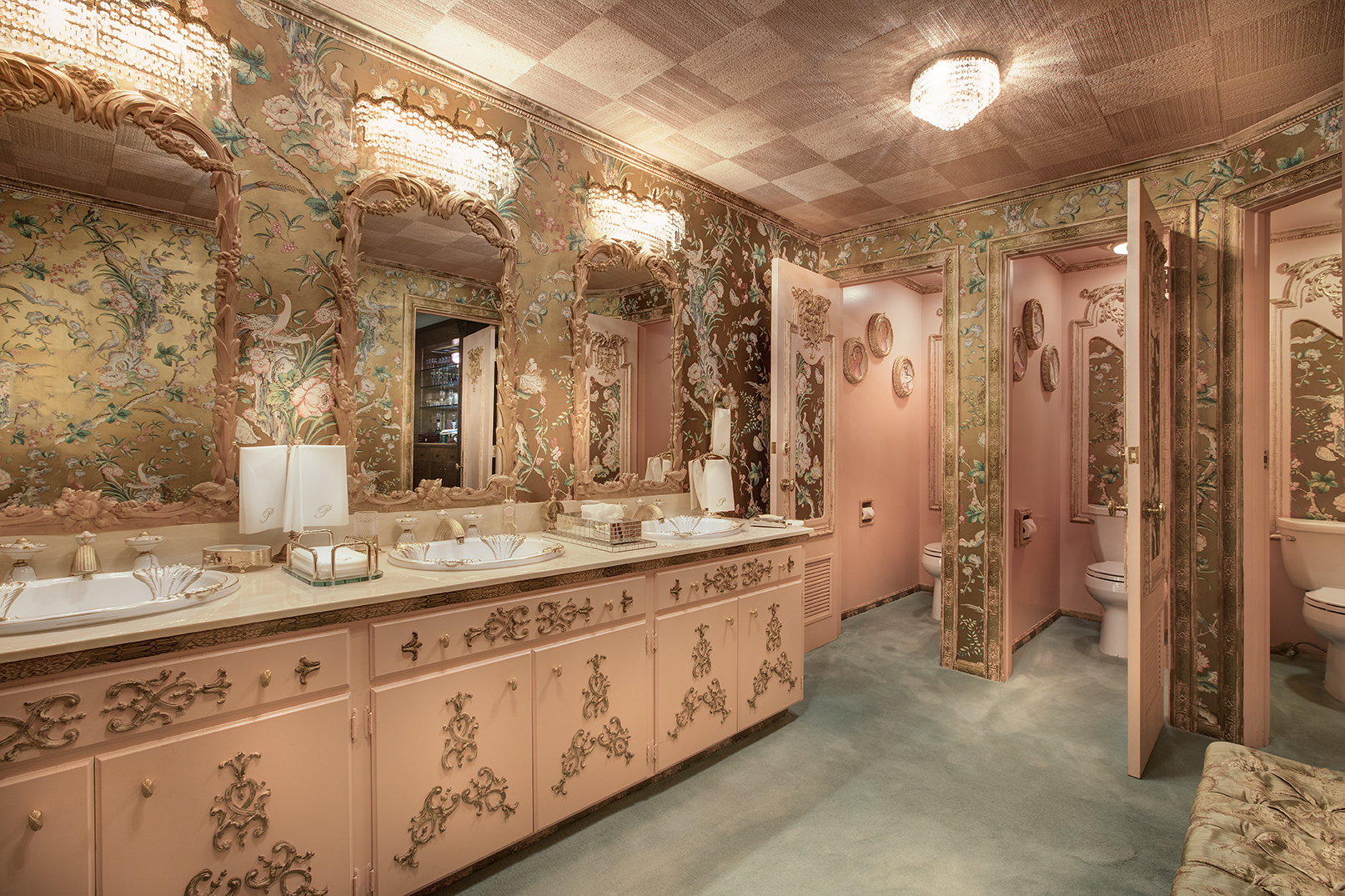 The house is old-world with black and white checkered marble floors; rose damask walls; handwoven Aubusson carpets; French period furniture and oil paintings; Venetian mirrors; Steuben and Baccarat crystal figurines, porcelain figurines and priceless objects d'art.
The French Room leads into the "Oriental Room," which is the size of some hotel lobbies. A huge Persian Tabriz rug covers part of the floor and two extremely rare, matching chandeliers that once hung in a maharaja's palace flank a green overlay Baccarat 19th-century crystal chandelier.
One only can imagine the famous people who've sat at the bar, gathered around one of the four pianos, conversed in the many seating areas, or played Scrabble, gin or backgammon at the game tables.
The kitchen is enormous. The right side, which McGuire uses, has a small adjoining breakfast room. The left side of the kitchen, featuring commercial-grade appliances, is where food was prepared for her lavish parties. On occasions, like her birthday, McGuire would host a sit-down dinner for 500 people using all her own china, flatware and crystal.
"Everything ran like a well-oiled machine," said Sandra, her personal assistant for many years. "We always planned for more guests than we were told, but if we ever ran out of food, Ms. McGuire would call Nat Hart, vice president of food and beverage at Caesars Palace, and he'd send some over."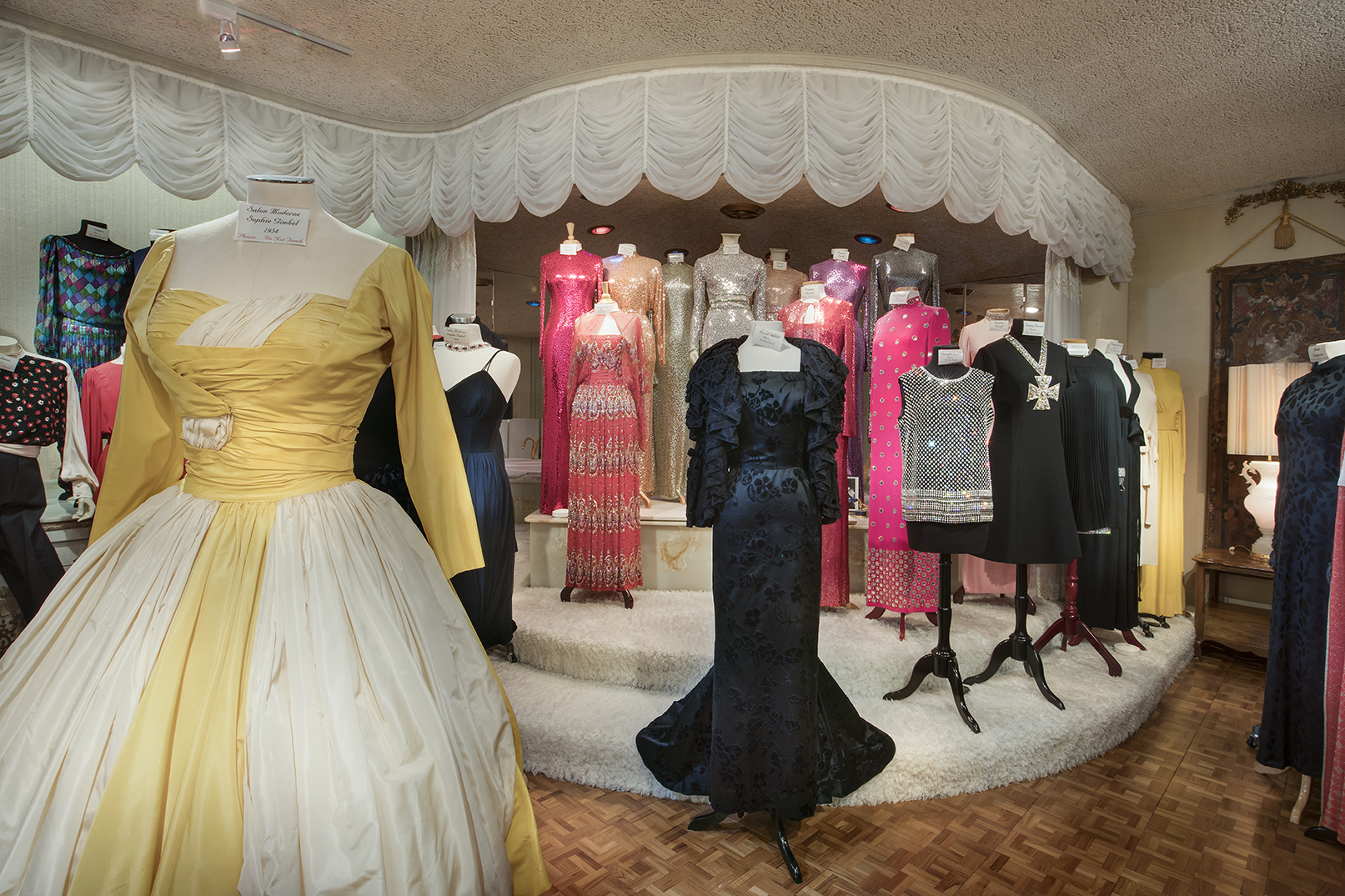 The enormous master suite now serves as a room where 200 gowns, dresses and suits by top designers like Bob Mackie, Chanel and Valentino, valued at more than $1 million, are displayed on mannequins.
In addition, four room-size closets are filled with clothes that are catalogued, so McGuire can keep track and make sure she never wears the same outfit twice when she's with someone.
Downstairs, her "Cabaret" room has a pool table, piano-shaped dance floor, and hundreds of photographs of The McGuire Sisters with legends in entertainment, politics, sports and business.
There is also a hair salon and an area with three dressing rooms, three massage tables and a steam room that The McGuire Sisters used after rehearsing for upcoming shows.
If the walls could talk, what amazing stories they would tell. This house is about much more than the bricks and mortar. This is a property that someone with an appreciation for nostalgia and the old glamour of Hollywood royalty will want to own. Sincerely!