by john katsilometes
Channing Tatum knows all about bravery. When you spend much of your career in various stages of undress, a certain kind of confidence is required.
"I really have no problem taking my clothes off," says the man who brought the character Magic Mike to life twice in film and once in the stage show "Magic Mike Live" in Las Vegas."But I don't care who you are, when you are up there in front of a bunch of people, you are nervous. And how you deal with nerves is everything."
Tatum's courage clearly runs far deeper than shedding his shirt in a film or, years ago, onstage. The esteemed action-film actor has put his own artistic reputation and resources (in the form of his production company, Free Association) behind "Magic Mike Live" at the Hard Rock Hotel.
A co-production of the hotel and Base Entertainment, the stage show is no meager project. "Magic Mike Live," based on the two "Magic Mike" films, is Tatum's vision. Both stage and screen versions were informed by his own experience as a stripper when he was just 18 at a since-closed club in Tampa, Florida (Club Joy, for Tatum history buffs).
The hit films "Magic Mike" and "Magic Mike XXL" summarily inspired Tatum to bring a highly produced male revue to the competitive Las Vegas entertainment scene — a city already home to such long-running hits as "Chippendales" at the Rio and "Thunder From Down Under" at Excalibur, both of which have run for more than 15 years on the Strip. Jeff Timmons of 98 Degrees has been pushing for a home for his "Men of The Strip," which is performing a limited run at Hard Rock Café, also on the Strip, in July.
"I really love Las Vegas shows, and I feel the creative energy from the people who have put into these shows," Tatum says. "The Vegas shows are good at what they do, there is a standard, and it is a very high standard when you look at what Cirque du Soleil has done with 'Michael Jackson One' or 'Love' at the Mirage. (But) if we tried to match those shows, we'd be wiped out. We're just trying to find our little place in the city."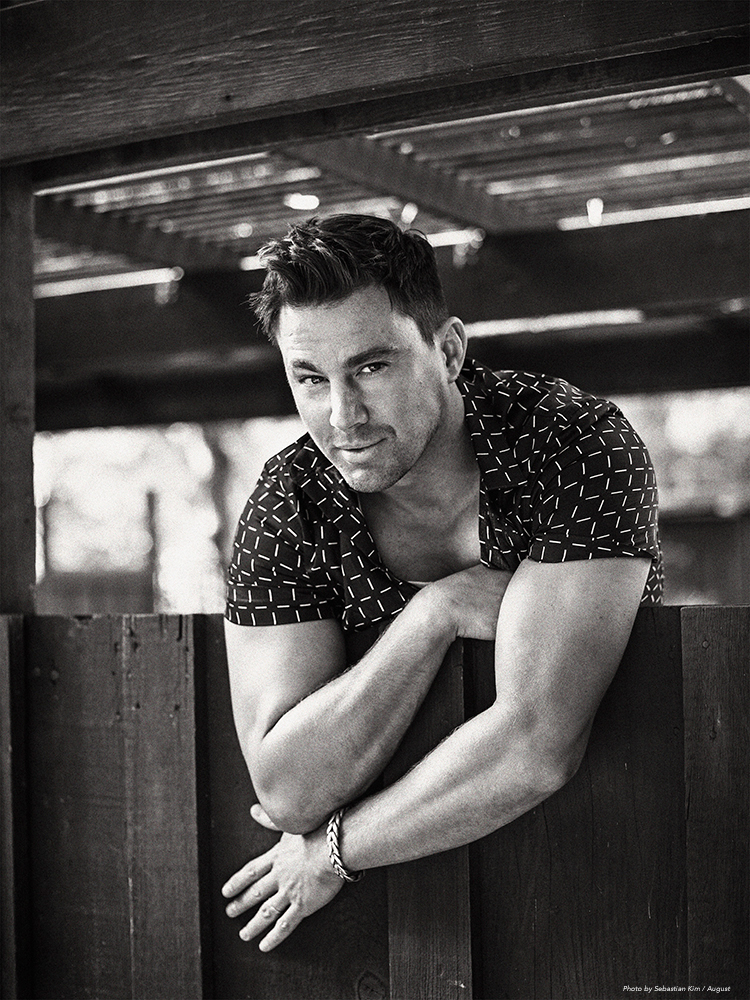 "Magic Mike" was something of a long tease itself prior to its March opening. The oft-rumored production was shopped around various Las Vegas venues for three years, popping up in conversation whenever Tatum or one of his production partners were spotted visiting a showroom.
He finally found an eager partner in the Hard Rock Hotel, which offered a nightclub space – Body English – that had been latent for nearly two yerars. The venue underwent a multimillion-dollar renovation, with the performance stage set in the middle of the room and tables and chairs moved in for a 450-seat capacity venue renamed Club Dominia, after the show.
Tatum then sought well-trained dancers who could strip (instead of teaching a bunch of buffed guys to dance) for the cast of "Magic Mike Live." The acts are small production numbers, which feature extensive choreography along with the use of aerial effects, dancers climbing up pillars and even a segment where the cast members perform as a live band.
For all the robust allure of "Chippendales" and "Thunder," these are segments performed only in "Magic Mike."
The strength of the competition only reinforced the work ethic of Team Tatum.
"God only knows how many days, weeks, months we spent, probably a year of time, in dreaming up these scenes and trying to make each one different," Tatum says, the "we" being himself and choreographers Allison Faulk, Teresa Espinosa and Luke Broadlick. "We didn't want to feel like the show was just a bunch of dance numbers lined up that had different outfits. We wanted a story arc. We kind of made a bit of a hybrid of a revue and something of a story."
Thirteen nimble dancers cavort under the direction of the show's female emcee, Lyndsay Haley. By the time you see your first full flip from the stage, you realize this show is seeking to be more than just a bunch of boys with hot bods in body oil and G-strings. In fact, as many of the female fans have pointed out, it takes a while for the strippers in this show to actually get around to that particular act.
Tatum puts a premium on pacing, on the actual tease, in
"Magic Mike Live."
"We learned from the first film that the movie was a bit like a show, and you really only have an hour and a half, or two hours, to spend with a stripper show," Tatum says. "A guy or a group of guys come out, they dance, and one of them gets naked. Then there's another scene, same thing. Once you've seen it, you kind of know what the show is – there's nothing more."
The tantalizing strategy has worked. "Magic Mike Live" is selling swiftly, surpassing $3 million in sales through the summer and selling out nearly every performance. Groups of 10 or more have had to plan several weeks in advance to get into the show, and its success has reportedly even increased the sales of both 
"Chippendales" and "Thunder."
Tatum has researched the competition, naturally. He has seen his own productions many times, "More than any guy, for sure," he says. Tatum and his wife, Jenna Dewan Tatum, have spent a few date nights in Club Dominia, and were spotted canoodling in the VIP section on opening night.
"For us, it's the perfect night, and she's seen the show probably more times than any woman and she never really gets tired of seeing the show," Tatum says. "We love watching the show together. She gets dances from all the guys. It's supposed to be a good time."
Tatum then recalls the old days, long before he was an actor and when he was just a club frequenter.
"When I was growing up in Tampa, we would go to strip clubs because they had alcohol and they were open late and girls and guys went because it was just a sexually charged environment and there was no weirdness," Tatum says. "I hope that, in time, guys will see that this is a place where they should not be afraid of going."
One of those guys will certainly be Channing Tatum, who is constantly asked if he's going to perform onstage and resurrect the moves that inspired "Magic Mike."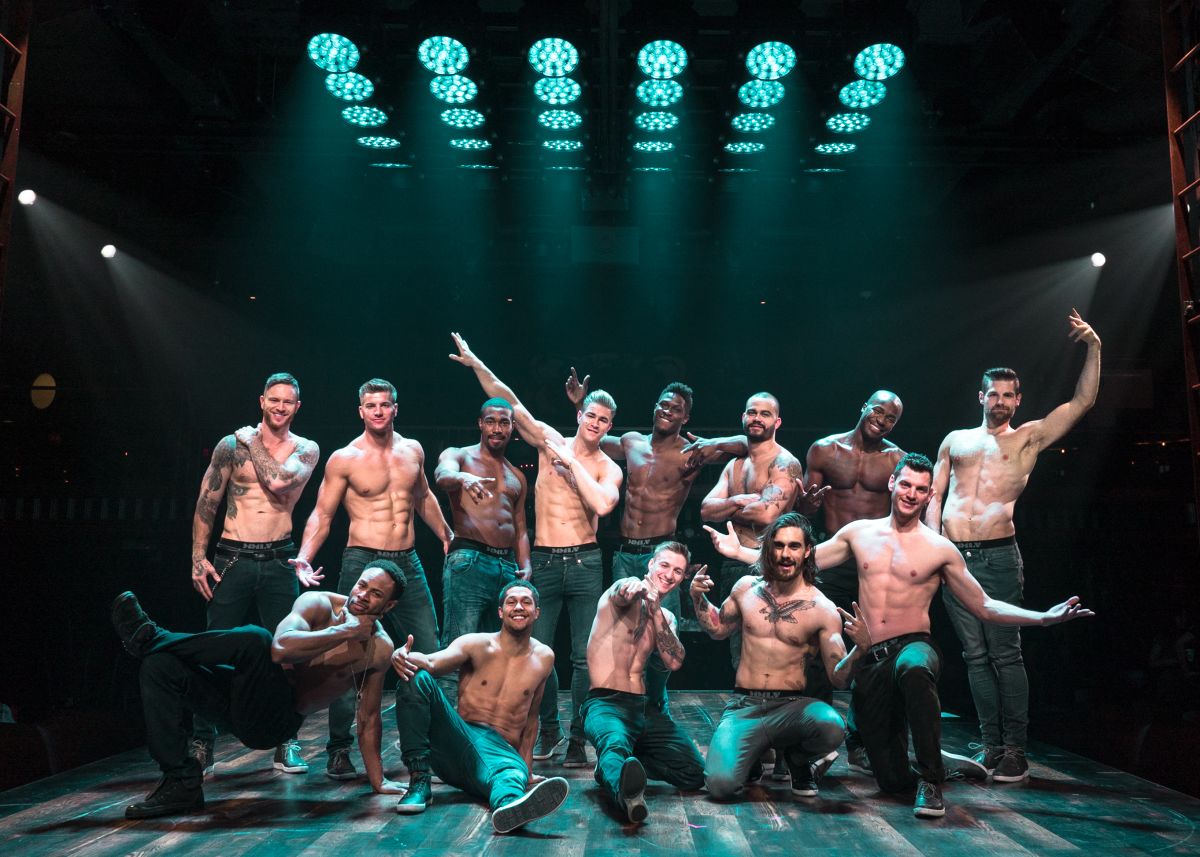 "Well, it's a full-time commitment to look like that, so if I had to guess, I'd say late this year or early next year," he says. "We're going to direct something early next year, so it would have to be before that. Sometime between now and the first few months of next year I will definitely be onstage."
He then laughs, saying that all of his physical requirements – in film and onstage – are self-inflicted.
"As I'm older as an actor doing these movies, there comes a point where I would look at Allison or Teresa or my best friend and creative partner Reid (Carolin) and go, 'Why do I keep doing this to myself? Why do I keep writing movies where I have to get naked?' " Tatum says. "This is like most people's nightmares."
But the man at the center of "Magic Mike" is just living the dream.